Giving Opportunity
GWIT+ Room to Read Girls Literacy and Education: World Change Challenge
Many world problems can be addressed through one solution: education. Advocating for global literacy
About this Giving Opportunity
$17,323.88
Donated of $30,000.00
Genesys Women in Tech (GWIT) is proud to partner with Room to Read in an effort to support 100 girls this year through their Girls' Education Program. Room to Read transforms the lives of millions of children through education, creating a world free from illiteracy and gender inequality. Their Girls' Education Program (GEP) ensures that girls build the skills to succeed in school and make key life decisions.
Essential to the program are their social mobilizers, local women who are hired as mentors and work with girls and their families to ensure that girls stay in school, participate in life skills activities, and navigate the challenges of adolescence with the ability to make their own life choices.
Many of the girls are faced with various challenges, such as child marriage or supporting their families financially. Particularly now during the pandemic, 49% of girls in Room to Read's programs are at risk of not returning to school. Together we can ensure that 100 girls stay in school throughout the pandemic and return to the classroom.
Room to Read's Girls' Education Program has proven results—92% of GEP participants go on to succeed in tertiary education or employment, and only 6% dropout of school compared to the average local community dropout rates as high as 25%. By 2025, Room to Read aims to double their impact to reach 40 million children worldwide. Help support girls' education today by donating.
Contribute towards the gift of education this International Women's Month.
$300 USD or ₹19,000 INR will support 1 girl for a full year in Room to Read's Girls' Education Program consisting of:
Life skills trainings: peer group sessions as well as phone, TV, and radio programming
Mentoring: weekly check-ins with girls and their parents
Material and academic support: tuition and scholarships as well as help with school work
Community engagement: collaboration with governments, schools, parents and communities
Learn more about the girls in Room to Read's Girls' Education Program who you are supporting! As well as ​​​​​details on GWIT + Room to Read partnership: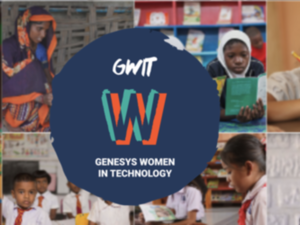 How Donations Work
Click any 'Donate Now' button and then decide your donation amount. You will then be forwarded to your payment processor of choice. Once your donation has been processed it will be sent to your charity of choice.
Need Some Help?